Thursday, 22 September 2016
European path of Bosnia and Herzegovina will be easily achievable with the realization of European projects, reports Kupres based public company for forest management of Herzeg-Bosnian County. Following the successful cooperation with the Croatian Wood Cluster, a joint study visit to Austria is undertaken, during which numerous meetings are pointed and quality project ideas exchange is expected, with Department of Forestry of the Styrian Chamber of Agriculture, the Austrian State Forests, Forestry Association, Styrian Holzcluster and one of the largest Austrian forest owners and wood processors, Mayr Melnhof.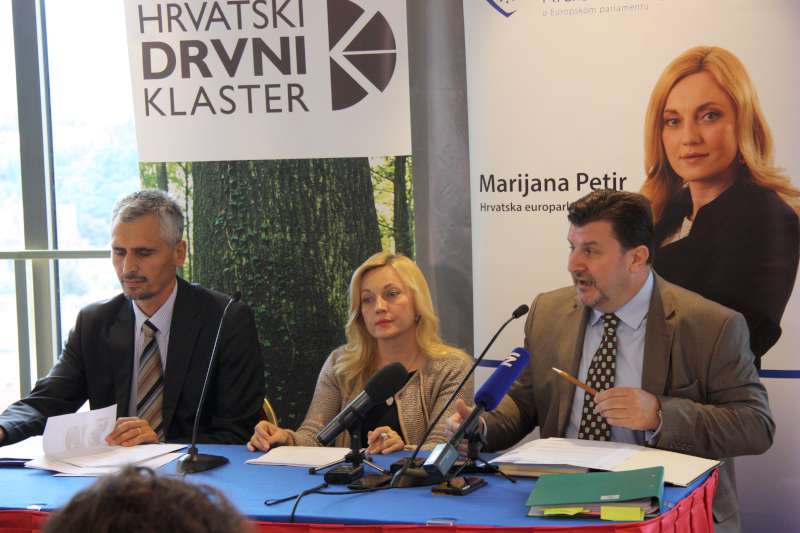 Croatian MEP Marijana Petir, Marijan Kavran, director of the Croatian Wood Cluster and professor Ivica Tikvić, Professor at the Faculty of Forestry, University of Zagreb were speakers at the press conference held yesterday on September 19 at the Westin Hotel in Zagreb. Main topics were the model of cascading use of wood adopted in July by the European Commission, the need for greater evaluation of Croatian forests in the latest EU climate policy package and the occurrence of bark beetles that endangers almost 30% of the forests in Gorski Kotar.
Friday, 16 September 2016
The press conference in the presence of Marijana Petir, MEP, Marijan Kavran, director of the Croatian Wood Cluster and Ivica Tikvić, professor at the Faculty of Forestry will be held  on Monday, September 19th, at 11 am in the Westin Hotel. In the introduction Croatian MEP Marijana Petir will present her standpoints regarding better evaluation of the forests in Croatia in relation to European policies to mitigate climate changes.