Holzmesse Fair in Klagenfurt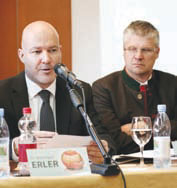 HOLZMESSE FAIR IN KLAGENFURT ATTRACTS WOOD MANUFACTURERS FROM CROATIA
In cooperation with its partner company, Centre for Development and Marketing, who is also the representative of the Klagenfurt fair, Croatian Wood Cluster has organized a presentation of the fair Holzmesse in Croatia, as well as the visits and participation of the interested companies.
Holzmesse is a leading international trade fair of forestry and wood products in Austria and its neighboring countries, which is held every two years in early September. It is important to emphasize that Austria represents an increasingly important market for wood products from Croatia.
Time and place of the fair: from 4 to 7 Sep, 2014, Klagenfurt, Austria. Parallel to this, another fair was held – the Holz&Bau fair (wood and construction), on which are exhibited innovations in technology of building with wood.
Surface of the exhibition area: 48,000 m² (of which one third goes to the exhibitors from abroad).
Number of Exhibitors: 502
Number of visitors: 22 000
Holding: every two years.
Exhibition categories:
Forestry – sawmill techniques and technologies
Wood constructions – tools and equipment for carpentry workshops
Transport and logistics
Biomass, and others.