Conference on the windows is held in partnership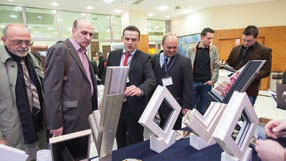 2nd International Conference "DAY WINDOW 2015" was held on 25.03.2015 in Zagreb in the Congress Center of Hotel Antunovic.
The meeting brought together over 190 participants, mostly producers of construction products (profiles, windows and doors, blinds and shutters, hinges, steel reinforcing elements, accessories for installation, etc.), architects and designers. This conference is a central professional gathering on windows in the region of
Southeast Europe, and its main objective is to present innovative products, improvement of production and installation of the product, taking into account the legislation too, properties and marking of construction products.
The conference was organized by inspection company Euroinspekt-drvokontrola Ltd. in cooperation with the Institute IFT Rosenheim in Germany, with the support of the Ministry of Construction and Physical Planning and sponsorship of leading European manufacturers of profiles and fittings. For the second
time Croatian Wood Cluster was a partner in the organization.
Conference topics were focused on:
Innovations in the sector of windows and doors,
Practical experience and benefits system of "RAL" installation,
Energy efficiency and sustainability,
Certification system – the door to the escape routes,
Fireproof doors and windows,
CE marking and declaration of properties for windows and doors,
Projects and EU funds to improve the production and energy efficient and sustainable products,
Experience of partners in various aspects of production and products.