Companies from Gorski Kotar visited Brussels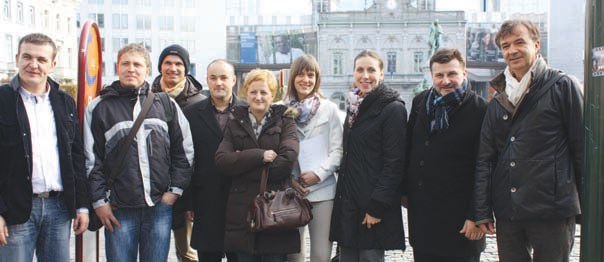 The Croatian Wood Cluster in cooperation with the Local Development Agency PINS organized a two-day business tour to Brussels for several entrepreneurs from the area of Gorski Kotar. The tour was funded by the project ˝Internationalization of SMEs˝ within the program ˝Poduzetnički impuls 2014" with the support of the Ministry of Entrepreneurship and Crafts.
The aim of the tour was to increase the level of international cooperation, to become familiarised with the functioning of the administration in Brussels and to create conditions for the launching of new projects in the field of rural development, forestry, wood processing and tourism in South East Europe. The delegation visited the European professional associatiosn Copa-Cogeca and Euromontana, where most of the discussion was focussed on project experiences and transfer of good practices to Croatian entrepreneurs.
Statement: Dinka Wolf Klepec, Director, Horteco

We are manufacturers of wooden terraces, a small family business from Prezid. This business tour opened our doors to Europe and gave us new horizons and hopes for further activities.
---
Statement: Daniel Bertovic, Director, Pins Ltd.

PINS started this initiative, which resulted in a successful matchmaking session in the European capital. I hope that all entrepreneurs will use this experience for future business. We made a report about it to the Ministry and a very extensive media release.